P-L496G-CELL01 and P-L496G-CELL02 are ST's first Discovery kits that come with a cellular modem, and they will be one of our demos at Embedded World 2018. Their purpose is to allow any enthusiast, startup, or small and medium business structure to start prototyping IoT (Internet of Things) devices that rest on cellular connectivity. The P-L496G-CELL01 comes with a 2G/3G modem whereas the P-L496G-CELL02 uses an LTE-IoT Cat M1/NB1/2G model, both made by Quectel. Obviously, sub-gigahertz networks are very popular avenues to connect a series of terminals to the cloud, and whether engineers are looking to set up a 6LoWPAN node, a LoRa module, a Sigfox device, or one of the many related technologies, we offer solutions to hasten development and make these protocols more accessible.
However, there are times when cellular networks are more suitable since they're reliable, familiar, and ubiquitous. As a result, we came up with the P-L496G-CELL01 and P-L496G-CELL02, which are display-less variants of the 32L496GDISCOVERY Discovery board. Since the vast majority of small cellular IoT products does without a screen, removing it made the new kits more pertinent and affordable. They're also our first solutions to ship with a modem that uses our STMod+ connector. Hence, it's possible to use the Arduino port to add a sensor board, like the X-NUCLEO-IKS01A2, among other things, without stacking multiple shields, thus reducing the risk of conflicts. However, beyond the hardware, the P-L496G-CELL01 and P-L496G-CELL02 are unique products because of the unusual and extensive partnerships we signed to offer game-changing features to developers.
What Cellular Networks Are Supported?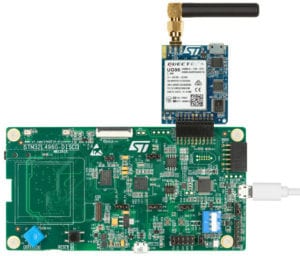 One of those features is the BG96-MA LTE Cat M1/NB1 modem on the P-L496G-CELL02. The technology, also called LTE-IoT, is currently available in only a handful of countries, such as the United States, Singapore, Belgium, and Spain, as most territories only plan on opening their infrastructure to the public in 2018. In a nutshell, both Cat M1 and Cat NB1 scale a traditional LTE network down, so small devices can send tiny and occasional data packets without wasting resources. Transceivers thus require less energy, while also improving battery life.
Previously, companies that wanted cutting-edge cellular networks had to sign partnerships with their local operators or jump through major legal and administrative hoops. Thanks to the P-L496G-CELL01 and P-L496G-CELL02, ST took care of simplifying the process. Developers can start writing an application compatible with a 2G/3G network today with the ready-to-use EMnify SIM to hasten development. Then, when the LTE-IoT network becomes available in their country, they can just use their operator's SIM card and enjoy the fact that 90 % of their code running on 2G is already compatible with the new network. Furthermore, the P-L496G-CELL02 is one of the most affordable open LTE-IoT development boards today.
How to Simplify Cellular Development?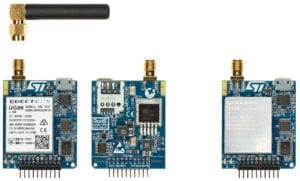 The demos of the P-L496G-CELL01 and P-L496G-CELL02 at Embedded World 2018 will showcase how the kits can send data to the cloud, such as the microcontroller's temperature, the device's geo-location, or the network's characteristics. With time, we'll add more and more of these application examples, as well as other enhancements, to the X-CUBE-CLD-GEN and soon after the X-CUBE-CELLULAR software expansion packs, which users will be able to download for free after the Discover kits hit the shelves. In the meantime, the drivers, middleware, Bill of Materials, and schematics that come with the boards mean engineers will be able to finalize their concepts faster since they can draw inspiration or even replicate some of our design strategies. It also signifies that using our code and our components will help them achieve the necessary certifications more rapidly so they can bring their product to market faster.
To further facilitate development, the kits use an EMnify SIM card. Typically, engineers have to get their own SIM cards and program around them, which isn't always practical. With our Discovery kits, developers get a model that's easy to use, that doesn't have a PIN code, and that comes with a portal enabling device management. They can also see the number of credits on the user's account and add data or SMS thanks to an online payment system. Additionally, since EMnify has cellular connections in over 133 countries and many mobile networks, engineers can better plan a worldwide expansion, while using a similar eSIM or microSIM as the one in the P-L496G-CELL01 or P-L496G-CELL02. Finally, thanks to ST and EMnify, users will get a free trial data plan for 90 days to start testing their cellular connection.
How to Simplify Cloud Development?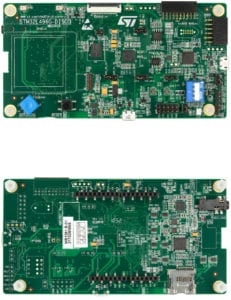 We also focused on cloud developments. For instance, users get a JavaScript interpreter for STM32 microcontrollers (MCUs) from Espruino to run scripts in memory. As a result, small teams no longer have to immediately start prototyping in C, which can be a problem if they don't have the resources or manpower to do so. There are even available scripts so developers can just customize them to satisfy their needs. This also turns both boards into vital teaching tools since students can start writing applications connecting sensors to the cloud through the Espruino Chrome Web IDE. To start, a digital voucher included in the box helps retrieve information about the board, the SIM card activation details, and a list of demos in the form of precompiled binaries that users can download and quickly flash onto the MCU.
Finally, because the ultimate goal is to connect devices to a cloud, ST partnered with Grovestreams, Exosite, AVSystem, Aimagin, and Ubidots to offer diverse cloud services. They each have different strengths, which means small businesses get a wide range of offers and the ability to use the most relevant service for their needs. While Ubidots focuses on application building, Aimagin prioritizes scientific application with its MATLAB analytics, and AVSystem gravitates toward machine-to-machine application. On the other hand, Exosite leans closer to industrial and enterprise systems, and Grovestreams offers significant analytics capabilities to bring decision-making mechanisms to any software. Users can test these services through a free trial account, and more when they get their hands on the P-L496G-CELL01 or P-L496G-CELL02. Both are sampling now and should be available for purchase during Q2, 2018.
Let us know what project you think would benefit the most from cellular networks in the comments section below.
---
Collaborate with your peers and ST in the community !
Ask technical questions | Stay informed and discuss our products | Share your project and activities