As the second ST live stream at electronica 2022 just ended, let's dive into the innovations driving industrial applications. You can check out the on-demand version of the talk show if you missed it on November 16. The conversations with partners highlight the solutions they found to bring digitalization to industrial applications. ST also brought the silicon carbide revolution to the forefront at electronica 2022. As the world wrestles with energy crises, moving to new material is one of the most straightforward tools in the fight for power efficiency.
The digitalization of industrial assets
Digitalization, on the other hand, is the phenomenon of adding technology to obtain data from assets that previously didn't offer any to optimize operations. It's primarily found in industrial settings to make processes more efficient, reduce waste, and increase returns. For example, using a mesh network to track assets moving across a factory floor opens new avenues to optimize logistics. Consequently, digitalization is increasingly popular as companies make data-driven decisions. Let's look at five examples of industrial assets undergoing digitalization.
Demo 1: Asset tracking on DHL trollies
Alps Alpine, a Japanese company, is demonstrating an asset tracking solution used on trollies by the German logistics company DHL. Thanks to the digitalization of its trollies, the courier can better track assets to reduce losses and wasteful operations. It also gives the company real-time information on its activities. It can thus see if a process is slower than it should be or if there's a bottleneck.
DHL tracks the trollies' movements and uses Sigfox to send data to a cloud. One tracker must be able to last eight years without replacing the battery. As a result, power efficiency is one of the most critical aspects of the system. Alps Alpine and ST thus worked to create a product that can provide accurate and relevant information while using as little power as possible. It's a case of efficient digitalization of industrial assets.
How did ST and Alps Alpine manage to create an asset tracking that can last eight years?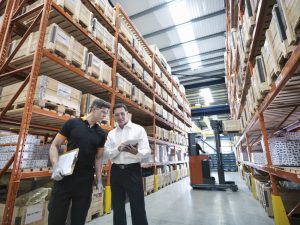 Depending on the trackers by Alps Alpine, some use an STM32L4 microcontroller, an S2-LP transceiver with the BALF-SPI2-01D3 balun, an accelerometer (LIS2DW12), and more. The inertial sensor detects movements and wakes the microcontroller that spends most of its time in sleep mode to preserve the battery. Indeed, the STM32L4 has an ultra-low-power mode that consumes as little as eight nanoamps and a wake-up time of only five microseconds. Additionally, it has a dynamic voltage scaling mechanism to rapidly switch from data processing to sleep mode.
A low-power system must consume very little power and perform computations quickly to stay awake as little as possible. It's a tricky balancing act. In this instance, the MCU sends data to the cloud using the ST sub-GHz transceiver, known for its low power consumption. The device only draws 6.7 mA in receiving mode and 10 mA when transmitting at 10 dBm. Moreover, its sleep mode only needs 600 nA, and its standby mode rests at 350 nA, thanks to its switch mode power supply regulator.
Demo 2: Qlixbi from Air Liquide
The company Air Liquide showcased its Qlixbi, a smart gas tank monitoring system for welders. The gas cylinder package latches on top of the tank to check levels and regulate the output. Unlike a traditional regulator, it is easier to install since it doesn't require wrenches to fit onto the tank. Digitalizing a gas cylinder also introduced new features, such as restock alerts.
Air Liquide managed to simplify the management of a sensitive workshop asset. A smart gas pressure sensor sends messages to a cloud platform that users access from any Internet-connected device. Such an approach facilitates the operations of workshops with multiple employees that don't all have shifts at the same time and, therefore, can't always exchange information on the tanks in use. The cloud platform works as a central information hub that optimizes operations.
How did Air Liquide and ST work together to digitalize a gas cylinder?
One of the most challenging aspects when designing Qlixbi was figuring out how to include the processor and RF in a tight package that could fit in a gas regulator. If the product on the tank is too large or unwieldy, it can hinder operations or create unbalances that could potentially be dangerous. To solve this challenge, the company chose the STM32WL, the first MCU in the industry to house a sub-GHz transceiver.It enabled Air Liquide to provide a LoRaWAN and Sigfox connection in a small form factor and allows customers to choose the sub-GHz network they prefer.
Qlixbi collects data and sends it securely to the cloud. The PCB layout even enabled Air Liquide to add an STSAFE secure element, which stores cryptographic keys and optimizes encryption or decryption operations to ensure developers can observe best practices while provisioning their end device onto the cloud. Furthermore, the Cortex®-M4 of the STM32WL is powerful enough to run analytics that helps a workshop anticipate when to replace the tank. Finally, Air Liquide uses ST NFC tags (ST25TV) and readers (CR95HF) to match cylinder heads with the right cylinder. The ST25TV was among the first in the industry to pass the Tag Certification Program.
Demo 3: Smart waste management with Remondis
Remondis specializes in waste and resource management by recovering raw materials, developing recycling services, supplying water, and treating wastewater, among other things. At electronica 2022, the company showed how digitalizing transparent trash containers could improve sustainability. A tracker placed outside bins meant to store discarded glass containers measured the fill level. Operators thus know whether to empty them instead of performing unnecessary routine operations. The system also helps companies reduce their carbon footprint since collectors only drive when needed.
Why a waste fill level sensor is a complex engineering challenge?
Given the many benefits of such a solution, many will ask why every trash can isn't already equipped with a fill-level sensor. The answer is that while the design may appear straightforward, its implementation is anything but. In the case of the Remondis system, the fill-level system must reside outside the steel container to ensure it doesn't suffer from interferences when wirelessly communicating with a cloud. As a result, the time-of-flight sensor that measures the fill level must work under a wide range of lighting conditions, in harsh temperatures, and for a very long period. An effective system must work for years on a single battery and with no maintenance operation needed.
To solve the challenge of accurately measuring fill levels, Remondis settled on using two trackers, each containing a time-of-flight sensor (V53L1X) from ST. By placing one at both ends of the bin, they can scan the entirety of the container to get a precise fill level. It also gives them a redundant zone of coverage that the microcontroller can use to double-check accuracy.
To ensure a low-power operation, Remondis chose an STM32L4 because of its power modes and ability to process information from the ToF as fast as possible. The company also uses an LIS2DH ultra-low power accelerometer (in the robot for children) to measure shocks and only wake the sensor module when someone opens or closes the bin.
Demo 4: Condition monitoring part 1 – Treon
Treon is presented its Industrial Node, a system that measures the vibrations and surface temperature of pumps, motors, compressors, and more. The node sits on top of the asset and sends information often and regularly using a Bluetooth mesh network to enable condition monitoring applications.
Why has the digitalization of industrial assets led to condition monitoring?
The Industrial Node from Treon is a cylinder that houses a 3-axis vibration sensor (IIS3DWB, the same one in the STEVAL-STWINKT1B). Treon chose this device because of its wide frequency range (up to 6 kHz) with a 26,667 Hz sampling rate and low noise density. Such characteristics ensure the capture of high-quality data. Moreover, even in high-performance mode, the ST sensor only consumes 1.1 mA, which is critical when trying to extend the battery life. The company also settled on this sensor because it's the only digital vibration sensor on the market today and one of the most cost-effective solutions.
The problem with capturing quality data is that it can rapidly drain a small battery. To remedy this issue, Treon added an IIS330IS. Thanks to this low-power accelerometer and gyroscope, the system can stay in sleep mode. When this secondary sensor detects advanced vibrations, the microcontroller wakes up, and with it, the IIS3DWB.
Demo 5: Condition monitoring part 2 – Bridge monitoring by the DAOS Group
DAOS Group is showing a strain sensor for bridges or large structures. Attached to a screw, the sensor board measures how vibrations travel through materials to determine structural integrity. It enables a new type of infrastructure monitoring that tracks cracks or failures that can lead to severe damage. The system runs on a battery and relays information using a LoRa network.
How did the DAOS Group optimize energy consumption?
The DAOS Group needed to create a robust system that could last long in the field. To solve this engineering challenge, the company used an STM32WL, which combines the microcontroller and RF. It simplified the overall design, reduced the bill of materials, and helped shrink the PCB. For instance, the STM32WL only needs one crystal for the MCU and the radio instead of two. ST also included an LDO and SMPS to improve the device's flexibility. For example, when the STM32WL wakes from sleep, stop or standby, it uses the faster LDO and switches to the SMPS when it's ready.
The SiC revolution
The reason behind the massive adoption of SiC devices is simple: the material enables new critical applications, such as EV chargers and photovoltaic converters. To be commercially viable, these products must handle hundreds of kilowatts in a small form factor and as efficiently as possible. The only solution is to use a material that offers power efficiencies previously unavailable. This is precisely why the democratization of EV chargers and solar energy follows the rise of silicon carbide.
Demo 1: a photovoltaic inverter by SMA
SMA will take advantage of electronica 2022 to talk about the future of its photovoltaic inverters. The company showcased its Sunny Boy and explained why they are moving to silicon carbide. A photovoltaic converter transforms solar energy captured by solar panels into electrical power. Designing them is challenging because engineers must prevent overheating and plan for a wide range of temperatures, weather conditions, and voltage variations. The inverter must also be small enough to fit in homes while remaining sufficiently inexpensive to be accessible to consumers. Today, the Sunny Boy showcased by SMA measures 46 cm x 36 cm x 12 cm and weighs only 17.5 kilograms.
How is SiC powering solar innovation?
Behind the scenes, ST is helping drive innovations in solar energy by providing unique silicon carbide MOSFETs. For instance, we offer various packages, from HiP247-4 and H2PAK-7 with Kelvin Source pin that enable lower switching losses to innovative HU3PAK SMD top-side cooled and ACEPACK SMIT Surface Mounted Isolated Top-Side Cooled Package. SiC devices in discrete packages, in particular, provide unbeatable flexibility to designers that can select the best-fitting solution among a huge variety of devices assembled into industry-standard package options. All these options amount to unbeatable flexibility for designers that can choose the best component for their design.
In addition to discrete package options, ST has entire modules under the ACEPACK brand. The modules can have a nominal voltage starting at 650 V and go all the way to 1200 V with currents ranging from 5 A to 100 A. ACEPAK modules feature typical half-bridge and full-bridge topologies to more innovative designs, such as a three-level T-Type topology.
Demo 2: Wallbox EV charger by Alpitronic
Alpitronic, an Italian company based in Bolzano, features its Wallbox for electric vehicles with dual charging capabilities. There are two charging plugs enabling 50 kW charging on one vehicle or 2 x 25 kW in parallel. Despite offering a total power of 50 kW, Alpitronic is a very compact DC charging station. It also has vehicle-to-grid (V2G) capabilities, which means the car can be used as a generator to the grid at certain moments of the day/night and has a high efficiency of up to 97%, thanks to ST's silicon carbide power modules.
How is silicon carbide impacting vehicles other than cars?
SiC allows for higher switching frequencies and lower heat dissipation, which means smaller heatsinks, more compact designs, and a lower bill of materials for a more accessible cost structure. ST is thus observing new demands for silicon carbide in modes of transportation that are even more demanding than cars, such as electric vans, electric buses, and even electric planes. Hence, while SiC first transformed solar panels and the electric vehicle ecosystem, as expected, it is now entering new domains engineers didn't expect. The rise of silicon carbide will, therefore, continue because the material is one of the most direct answers to current sustainability challenges.
A peek at Industry 5.0
Thanks to new materials like silicon carbide and the increased digitalization of industrial assets, market leaders can already see what the fifth industrial revolution (Industry 5.0) will look like. The 21st century saw the arrival of the fourth industrial revolution (Industry 4.0), the one we are currently experiencing. Often called "Smart Industry," an expression coined by the German government in 2010, it is characterized by cyber-physical systems (CSP) or what ST called "the next automation age." CSPs enable AI at the edge and allow embedded systems to make decisions. Industries can leverage machine learning and cloud computing to optimize operations thanks to digitalization and increased computational power.
While the fifth industrial revolution is pretty far away, it's already possible to peek at what it will bring to industrial applications. According to the European Commission, Industry 5.0 will have a human-centric element. AI will optimize how we produce things and improve workers' well-being and help make operations more sustainable. Instead of simply tracking assets, AI will help workers avoid physical and mental strains by enhancing their activities and the environment. Additionally, Industry 5.0 will be critical in the fight against climate change. Put simply, many think that the fifth industrial revolution will represent a shift from better production to improved living.
Demo: Digital twin by Siemens
Siemens showed a robot arm in a transparent cabinet controlled by a separate but equally transparent tower. A screen explained what was taking place to guide users through the demonstration. The demo showed how innovation in an industrial application could improve engineers' conditions by helping them validate processes more efficiently. By having the control system in one tower and the robot arm in the other and by ensuring that both stay in constant communication, it was easier to simulate applications and determine the efficiency of newly developed systems. The two towers thus represent a more holistic approach to prototyping by bringing the development of control applications and their execution by a robotic arm together.
What takes place behind the scenes of the digital twin demo by Siemens?
Many may not realize that the digital twin demo is possible because of the extensive partnership between Siemens and ST. For instance, several applications in the control tower use STM32 microcontrollers because of their performance-per-watt ratio, functional safety features, and ecosystem. Siemens also uses various ST intelligent power switches, including one with galvanic isolation. Factory floors are a harsh electrical environment due to the numerous sources of electromagnetic disturbances or ground loops. As a result, Siemens needs to protect the microcontrollers, ASICs, and CPUs, and the best way to do it is with galvanically isolated I/Os. Furthermore, by using ST devices, Siemens reduced its BOM and squeezed the application into one PCB instead of two.
ST provides transceivers (L6364), and we have partners that offer software stacks that run on nearly any STM32 MCU. To help teams get started, we also have an expansion board to take advantage of IO-Link (X-NUCLEO-IOD02A1). We even offer a bundle that includes an STM32L4 Nucleo board, a sensor board (X-NUCLEO-IKS02A1), and the IO-Link expansion board (the P-NUCLEO-IOD02A1), so engineers can grab one pack and have all the components they need to start working on an application.
We also have an evaluation kit that houses the galvanically-isolated driver of the digital twin demo (STEVAL-IFP033V1). Hence, the digital twin demo isn't only about the collaboration between Siemens and ST but how we empower our community as societies move toward Industry 5.0.
Last but not least: an EV charger mindful of the energy crisis
In an age of energy restrictions and environmental crises, governments and consumers are rethinking the role of electric vehicles and the infrastructure that they come with. Instead of replacing every fossil fuel car with an electric alternative, major cities are entirely rethinking urbanization to prioritize smaller modes of transportation. They are still electric but take the form of scooters, bikes, or boards on top of the traditional car. European countries are also passing laws forcing residential areas to set up EV chargers to encourage. Consequently, many are looking to take advantage of the big battery in electric cars to reduce their reliance on foreign energy sources.
Demo: Bi-directional EV: Mobilize Powerbox by Software République
The Mobilize Powerbox from Software République, a European collaborative ecosystem, capitalized on all these trends to create one unique product. It is, first and foremost, an EV charger with a power range between 7 kW and 22 kW for consumers that should be available for purchase by the end of 2023. Thanks to a collaboration between ST, LACROIX, Renault Group, Orange, and Thales, it's also a smart charging station with features like over-the-air updates and the ability to offer connected services. It can securely connect to a cloud platform to help end users track their vehicle's charge status, energy consumption, and more.
Additionally, the Mobilize Powerbox is bi-directional, meaning that it can charge an electric vehicle and use the battery of an EV to power a household, for instance. The technology, called vehicle-to-grid (V2G) or vehicle-to-home (V2H), can transform how we consume and store energy. For example, a house could rely on solar panels during the day and then use the car's battery in the evenings or at night while sitting in the garage. It would provide a way to reduce our dependency on fossil or foreign energy sources drastically.
Bringing energy home
The Mobilize Powerbox is the fruit of a massive collaboration between European companies and is made in France. It promotes technological independence for EU countries seeking relief from global uncertainties and an initiative to fight climate change. Similarly, V2G and V2H help countries keep energy production and delivery local.
V2G or V2H are not new concepts. The ST Blog first started talking about them as far back as 2017 (ST Developers Conference: V2X Communications, The Talkative Cars of Tomorrow), and we were already covering chargers with V2G capabilities in 2019 (The World Needs Better EV Charging Stations, Check Out These 3 From Enel X). However, V2G is a challenging feature to implement as it requires tremendous flexibility and security. Hence, as a member of Software République, the Renault Group is committed to using its network of partners to bring the Mobilize Powerbox to consumers, facilitate its deployment, and promote V2G and V2H.
How did ST work with the other members of Software République to create a unique solution for consumers?
An EV charger must first communicate with the vehicle that is about to receive a charge, regardless of its maker. Standards help the charger and vehicle communicate to determine voltages, currents, and more. This information exchange is critical to send energy to the vehicle safely.
Software République chose the STreamPlug, ST's SoC for broadband power line communication (ST2100), for this task. It is one of very few in the industry to provide an ARM SoC running at 333 MHz, and it has a memory controller that supports mobile DDR. The Mobilize Powerbox uses the STreamPlug with the STLUX digital controller for power conversion. By working with IoTecha, a member of the ST Partner Program, ST was able to develop a design that facilitates interoperability and remains future-proof.
To further ensure a long life span, Software République worked on a design that could easily receive over-the-air updates, which is why the Mobilize Powerbox features an STM32 microprocessor (STM32MP1). Unlike a microcontroller, which runs a real-time operating system, a microprocessor has more computational power and can thus run a Linux distribution. The group worked with LACROIX and Thales to bring a flexible software implementation. The company has worked on STM32 microprocessors and OpenSTLinux since ST launched them in 2019. Consequently, Thales brings expertise that enables Software République to support advanced software implementations in the first release of the Mobilize Powerbox.
Security is another critical aspect of this solution, even more so when implementing V2G or V2H features that will impact the grid. To protect cryptographic keys and optimize encryption and decryption operations, the Mobilize Powerbox uses an ST secure microcontroller (ST33). The component is purely dedicated to security and can be used as part of a Trusted Platform Module (TPM).